Followers

4

Following

2

Updates

0
Joined August 26, 2014
Jack Hertz ran the Poison Plant label since the late 80s which has morphed into his Aural Films label post apocalypse.
A random selection of Jack Hertz tracks.
Project-9: Fantastic Planetscapes
Who remembers the 1973 film, "Fantastic Planet" by René Laloux with the amazing soundtrack?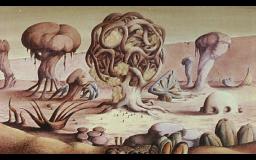 Those fantastic landscapes with the bubbling and noodling synth sounds created by Jean Guerin on an EMS VCS3 and ARP 2600, were so inspiring. I thought it would be good fun to do a fantastic planetscapes collaboration project. If there's enough material, we can do a cassette tape release or something?
No rules on style, or length. Just be sure to post the final tracks back to Tapegerm here for others to hear.

I am supplying a pack of weird analog modular synth and other sources to use for collaboration, re-mixing, re-sampling, or whatever you can make with them and your own material. I am releasing these tracks under sitpulation you give credit to "Jack Hertz" and the music is also released under the same license: CC BY-NC-SA 3.0 US
Tags
CREATE A FREE ACCOUNT TO REVEAL THE SOURCE AUDIO AND PARTICIPATE IN THIS PROJECT.
There may be files from other artists related to this project listed below.