www.tapedrugs.com = about 35 years of history, free downloads/streams, audio, visual, literary, etc.
genre:
Soundtrack
streams:
123
Credits: Nine Audio Loops By Jack Hertz for Fantastic Planetscapes Project-9 (all modified by C. Goff III), Natural Reader Voice Emulator, Janus Professional Sound Library, Carmelita Goff (vocal), Cows Of Deanna Rose Farmstead (vocal), Passing Automobile (8/15/2013). C. Goff III Plays: Korg R3 Vocoder/Synthesizer (used for intro/outro only), Witch Hazel Woodwinds, Octavia, Sound Effects, Editing, Production
Sourced from Project
Using source file
Story: An attempt to emulate some of the moods and atmospheres of this brilliant production by Rene Laloux (director) and Alain Goraguer (soundtrack). None of the original movie soundtrack was sampled for this interpretation.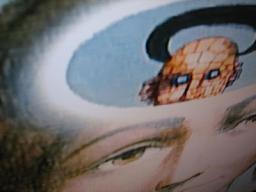 Tags