Followers

13

Following

1

Updates

110
Joined July 04, 2014
Tapegerm Collective began in May 2000, spawned from a collaboration at homemademusic.com where loops from a selection of diy cassette albums were dropped into a pool that artists used to create new music. A group of these artists formed a collective project to share loops and evolve the resulting music over time; currently mutating into its 20th year.
2014-07-04
By: tapegerm
Posted in: blog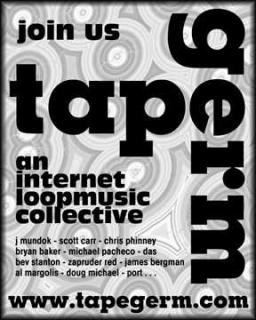 Tapegerm is a place for recording artists to share sounds and create new sonic worlds. It is a close-knit community and we welcome evolving ideas, exploring new ways to collaborate. Tapegerm was formed in May 2000 and after fourteen years of online collaboration, resulting in over 100 albums of music we decided to start fresh July 4, 2014. It was time for a revolution.
To join us simply create a profile and start downloading source files. Then create a new recording using one or more sources from one or more projects and upload it. Sources on tapegerm.com are royalty free, Creative Commons Attribution-licensed -- please credit the source artists when uploading recordings to tapegerm.com.
You're also welcome to initiate projects of your own. Source audio may be hosted here in your File Uploads area, or elsewhere online if you wish -- just tell us where.
Visit the forum to discuss topics of interest, upload pictures and art to your gallery, share youtube videos, comment often about what artists are creating here and make some noise.
Tags