www.tapedrugs.com = about 35 years of history, free downloads/streams, audio, visual, literary, etc.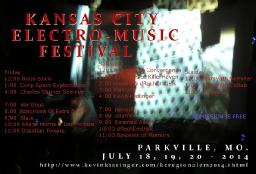 Friday July 18 2014, 8:00 PM
@ Parkville, Missouri (that's real close to KC)
2014 Kansas City Electro Music Festival

The 6th Annual KCEM FEST will be held July 18th, 19th, and 20th.
Goff III, Mike LaGrega, Allan McGinty will be performing as BASEMENT OF EXTRA POWER , FRIDAY JULY 18TH,        8 PM CENTRAL DAYLIGHT TIME (THAT'S SATURDAY JULY 19TH, 1:00 AM COORDINATED UNIVERSAL TIME).

Walnut Creek Clubhouse
5502 Clubhouse Cove
Parkville, Mo. 64152
I think it will be broadcast live via Electro-Music Radio:  http://electro-music.com/radio/
I cannot figure out how to include a link on this post, sorry, the link button seems inactive, boo hoo...
MORE INFORMATION HERE:  http://electro-music.com/forum/post-398467.html#398467
Tags