Followers

13

Following

1

Updates

111
Joined July 04, 2014
Tapegerm Collective began in May 2000, spawned from a collaboration at homemademusic.com where loops from a selection of diy cassette albums were dropped into a pool that artists used to create new music. A group of these artists formed a collective project to share loops and evolve the resulting music over time; currently mutating into its 20th year.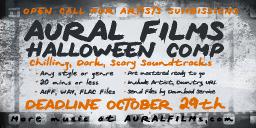 Thursday October 29 2020, 3:35 AM
@ https://auralfilms.bandcamp.com/
Attendees: @tapegerm
Aural Films is hosting a Halloween Compilation for 2020 featuring artists from around the world who contributed their chilling, dark, and or scary soundtracks that will be released on Halloween Saturday, October 31, 2020.
The submission guidelines are as follows:
+ Any style or genre soundtracks are welcome.
+ Tracks must be 20 mins or less in length.
+ AIFF, WAVE, or FLAC files only.
+ Tracks should be mastered ready to upload. Aural Films will not process tracks in any way.
+ Must include artist name, country, and URL.
+ Files must be sent by File Sharing Service like WeTransfer, Dropbox, etc with no login required. No attachments, please..
+ One submission per artist.
+ Send completed submissions to Aural Films by email at the following address ONLY (do not PM) - s4grecs@gmail.com
Tags