www.tapedrugs.com = about 35 years of history, free downloads/streams, audio, visual, literary, etc.
genre:
Dada Carnival Music
streams:
266
Credits: Tapegerm Wacky Bits Project-10 from Anixas/Michael Cosma, Tapegerm Moon Zero Four Project-7 by Sample Science, C. Goff III: Casio AP-24 Electric Piano, Musescore MIDI Composing Tool, Voice, Micro Moog Analog Synthesizer, B Musical Electronic Orchestra, Natural Reader Text-To-Voice Software
Sourced from Project 10
Sourced from Project 7
Using source file
Story:
This piece all started with a piano improv that evoked thoughts of a Dadaist Carnival. Naturally, Mister Cosma's Canfield Fair recordings fit perfectly into this theme, as well as the gymnasts who so recently filled my television screen, stretching their muscles all the way from Brazil to Kansas City. The Moon Zero recordings helped a bit with coloring the surreal landscape.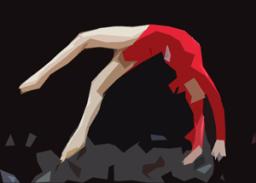 Tags